Expertise
Need a roadmap for your organization's success? No matter your size, industry or location, your journey will begin and end with your people. That's where we come in.
As Organizational Development (OD) experts, we help you unleash the power of your people and eliminate barriers to their success. We do so through a continuous process of assessment, analysis, action planning and measurement.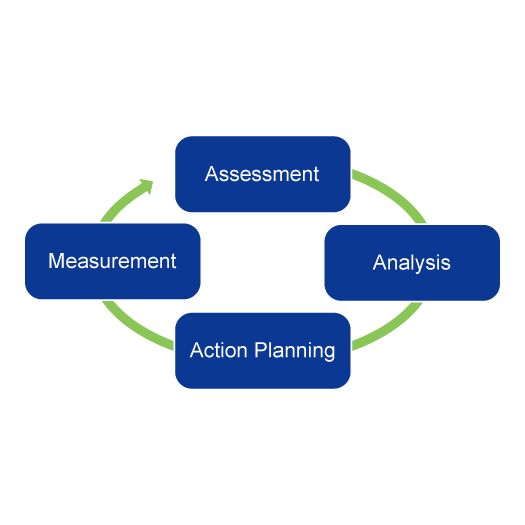 We focus our assessment on your organization's climate and culture, essentially the personality and mood of your organization.  Together, they represent your internal brand.  What you do on the inside strongly influences how you are perceived on the outside.  Your internal brand has a tremendous impact on attitudes, behaviors and quality of service.  By measuring the key attributes of your climate and culture such as:
Engagement
Fairness
Leadership
Supervision
Communication
Alignment
Empowerment
Respect
we can diagnosis what's working well, what could be working better and where there could be hidden risks. We then plan and partner with you to build a healthy, engaging, collaborative and productive culture that will allow you to leverage strengths, address weaknesses and mitigate risks. By improving your climate and culture, you will enhance your organization's ability to attract and retain top talent, solve problems, manage future change and boost overall performance.
Investments in your people pay off. The Service-Profit Chain, originated by two Harvard Business School professors, illustrates the direct links between employee engagement, customer loyalty and better business results:


The Return on Investment (ROI) has been articulated in many ways:
Highly-engaged employees are 38% more likely to have above-average productivity.
A 5% increase in customer loyalty can increase profits from 25% to 85%.
Highly engaged employees are 87% less likely to leave their organization.
Companies with low engagement scores earn an operating income 32.7% lower than companies with more engaged employees.
An engaged employee is 2.8 times more productive than an average one.
Engaged employees take fewer than half the number of sick days than their disengaged counterparts.
While we provide OD services to organizations in a variety of industries, we have particular expertise in the following: