Higher Education
Background
Our ultimate goal is to help colleges and universities become better places to work and learn.
As a nationally recognized research and consulting firm, ModernThink has been working with colleges and universities for over a decade. Founded in 2004, we have particular expertise in the following:
Improving workplace quality
Assessing climate, culture and stakeholder engagement
Leveraging data to drive meaningful change
Pioneering a new frontier, ModernThink partnered with the Chronicle of Higher Education in 2008 to co-found the Great Colleges to Work For© program in 2008. Great Colleges provides senior-level administrators and academic leaders with insights into the quality of the workplace experience on their campuses and the competitiveness of their policies and benefits. The program has quickly become one of the largest and most prestigious recognition programs in the country. You can learn more at Great Colleges website.
Having worked with over 1,000 colleges and universities across the country, we have accumulated an unparalleled database of workplace quality metrics and best practices. We use this rich database in our private consulting practice to help our higher education clients understand how they stack up relative to the best of the best. We work with schools ranging from small liberal arts colleges to large research universities as well as both 4-year and 2-year colleges. We have also partnered with state systems including the University of Tennessee System, the West Virginia state system and the Dallas County Community Colleges District.
ModernThink's speaking engagements within higher education include but are not limited to the following:
ACE (American Council on Education)
NACUBO (National Association of College and University Business Officers)
AAC&U (Association of American Colleges and Universities)
CUPA-HR National
CUPA-HR-Regionals
NCCI (National Consortium for Continuous Improvement in Higher Education)
The Rural Community College Alliance
AIR Forum
Benefits
Our clients within higher education tell us that they appreciate the following about ModernThink's services and approach:
Our partnership philosophy has us continually focused on what's best for our clients.
Our consultants are experts in higher education. They are steeped in the nuances of academe. Several are considered thought leaders on topics ranging from enhancing workplace quality to transforming your culture to conducting climate surveys to data-based strategic planning.
We have accumulated an unparalleled database of higher education benchmarking statistics and best practices. This resource provides you with objective, credible feedback about how your college or university compares to peers.
We use a wide variety of assessment tools to help colleges and universities protect their greatest assets and their largest investment – their people. These assessment tools provide insight and information to university leaders that help them understand how the campus climate and culture are either enhancing or undermining not only the faculty and staff experience but also student outcomes.
Our proprietary technology affords us maximum flexibility when designing surveys and reports. It also allows us to move extremely quickly and to be highly competitive in pricing.
We are committed to understanding your institution's unique needs and then customizing a suite of services that meet those needs.
One size never fits all at ModernThink. We're not interested in selling you surveys and services that we happen to have. We are dedicated to creating custom solutions to meet your needs.
Services
At their core, our services (highlighted in the graphic below) are designed to gather, summarize and synthesize feedback from a wide variety of campus stakeholders and then to help leaders understand key themes, trends and patterns so that they can make data-driven decisions. Their analysis is enhanced by tapping into ModernThink's unrivaled database of workplace metrics and best practices so that they can see how they compare to peers as well as how others are dealing with many of the same challenges that they face.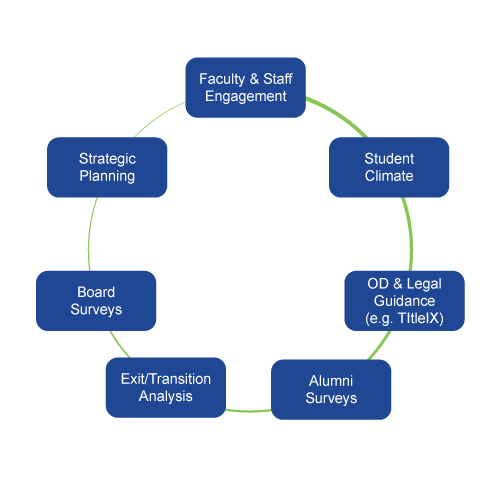 By way of example, we will work with your institution to design a suite of custom surveys for your faculty and staff, students, Board and/or alumni. We will start with a comprehensive assessment of your unique needs and goals, and then use our expertise to design a solution tailored to your objectives. Using this integrated approach vastly improves communication flow and ultimately knowledge given that pieces of the puzzle are not scattered across multiple siloes. Only when the information is aggregated and the reporting is uniform and consistent across functional areas can leaders truly see the big picture come together, ultimately allowing them to make better decisions and mitigate risk.
We also offer several programs where we partner with legal experts so that you receive the benefit of our OD expertise combined with legal guidance. Examples include the following:
Reviews of HR policies and programs
Recommendations on Employee and Student Handbooks
Guidance on Title IX compliance
Testimonials
Clients consistently tell us how pleased they are not only with ModernThink's stellar project management skills but particularly with the insight they are able to gain by gathering integrated feedback and working with ModernThink's OD consultants to advance their institution's strategic planning.
"ModernThink exceeded the expectations of the University of Tennessee in delivering and analyzing an Employee Engagement Survey for the campuses, institutes, and system of the university during 2011. Their model is one of strategic partnership. Highlights include:
. . .
ModernThink's project plan was outstanding from meeting with senior leadership on the campuses and institutes all the way to town hall meetings for employees of the university. Facilitation skills were outstanding.
ModernThink is absolutely the best project planner with whom I have worked. They kept us on track from the beginning, and we always knew what we had accomplished and where we were headed. We finished on time with greater results than expected.
Working with experts who understand higher education was a huge benefit in more ways that I could have imagined."
~ Linda Francisco, Executive Director of Talent Management, The University of Tennessee System
"The opportunity to benchmark against other universities was a valuable experience."
~ Lynette Chappell-Williams, Director, Workforce Diversity, Equity & Life Quality, Cornell University
"Leaders in higher education must consider many factors when attempting to bring about positive change. Knowing where to start is essential. Working with ModernThink's Insight Survey and OD experts was invaluable. I was able to see what was working well and what areas needed immediate attention. Being able to benchmark against our peers in higher education was informative, and enabled me to prioritize resources and improve our planning process."
~ Paul Forestell, Provost, Long Island University
"The data analysis provided by the organizational development experts at ModernThink made our participation in the Great Colleges program very worthwhile."
~ Dr. William Troutt, President, Rhodes College
"The survey work begun by ModernThink and the Chronicle helps us evaluate our HR strategy and employee value proposition. This assessment work will contribute valuable input into our strategic planning efforts."
~ Clint Davidson, former VP, HR, Duke University
"It was a great opportunity to spend some time reviewing all of the programs we offer and to help identify areas where we need to increase communications and branding."
~ Mary P. Smith, Senior Director, Human Resources, Emory University
"We are on a journey toward creating a culture of excellence. We needed a way to take the pulse of our college as a workplace. The Chronicle's Great Colleges to Work For survey gives us an annual benchmark."
~ Sam Connally, VP for Human Resources, University of Louisville